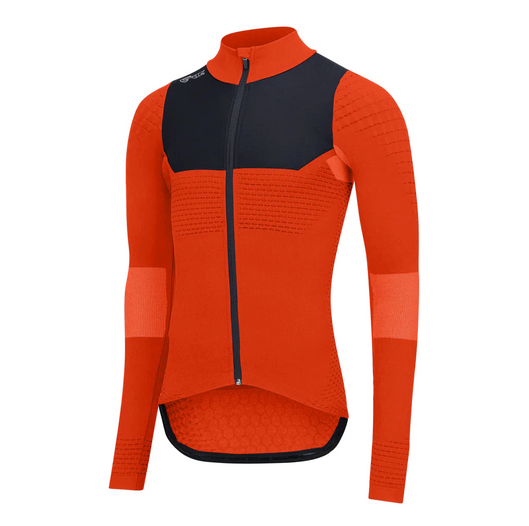 SPATZ 'HEATR' 4-season Longsleeve Jersey (L/XL RED)
---
The Spatzwear 'HEATR' long sleeve jersey is like nothing else on the market. 
A true 4-season garment. Perfect for spring, summer and autumn when layered over our various base layers, or use it as part of your layering system for all but the coldest winter days. Add our BurnR Gilet to make a bulletproof deep winter ensemble.
After years of racing, training and riding, Spatzwear have turned jersey design on its head. The 'HEATR' will quickly become your favourite cycling garment; you'll wonder how you've managed without it...
Designed by lifetime cyclists and a 2x Olympic Champion, the 'HEATR' is a proper 4-season jersey. In-woven detail and texture regulates temperature like no other jersey. We've added a stretchy wind-stopping layer to the chest and rear shoulders to create a jersey that handles anything you can throw at it.

Engineered of seamless construction, each 'panel' has dedicated thickness, weave and weight to offer performance unique to this garment.
Developed to integrate with our base layers, it creates the perfect outer shell for riding in all but the most extreme weather. It is warm, dry, aerodynamic and incredibly comfortable.
2 rear pockets with striking reflective detailing allow you to carry your essentials and shine up bright in the traffic.
Used in conjunction with our CoolR, Race Layer or Basez2 base layers, it allows you to stay aero, light and warm to keep your focus on the riding, not the weather...
Super stretch fabric for a close, aero, yet comfortable fit
Extended rear section with silicone hem gripper
2 rear pockets with reflective detail
Long-cut sleeves with extendable wrist area to work with or without gloves
Moisture managing fabric
Thermal yet lightweight design
Quick drying
Warm where you need warmth with no unnecessary bulk or weight
Premium quality zipper with garage at the collar
The 'HEATR' is designed with revolutionary inner textures and profiles to trap a layer of warm air and actively transport moisture away from the skin. Cyclists have needed a jersey like this for decades. Here it is...
Worn with our CoolR, Race Layer and Basez2 base layers, the 'HEATR' jersey creates a layering system that suits any weather, regardless of how hard you ride.
Nobody has ever created a garment like this. It is totally revolutionary and will change your riding forever. 
Size chart in images!
Please see colour swatches (under natural light) in images for true yarn colour.
Please note, this is designed to be a close fitting garment. We are able to target compression in to the fabric to hold it close to the body. On fastening the zip, the jersey should feel "tight" (but obviously not restrictive). The fabric will give during use. As a guide, a rider at 178cm and 70kg can wear a Small, but it may initially feel too tight when first zipped up. Wear the HeatR as tight as is comfortable!