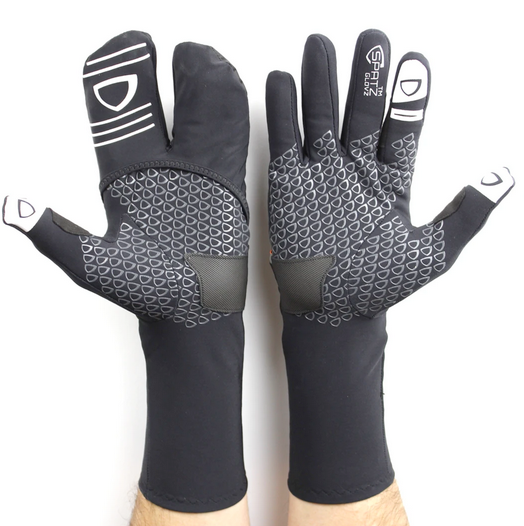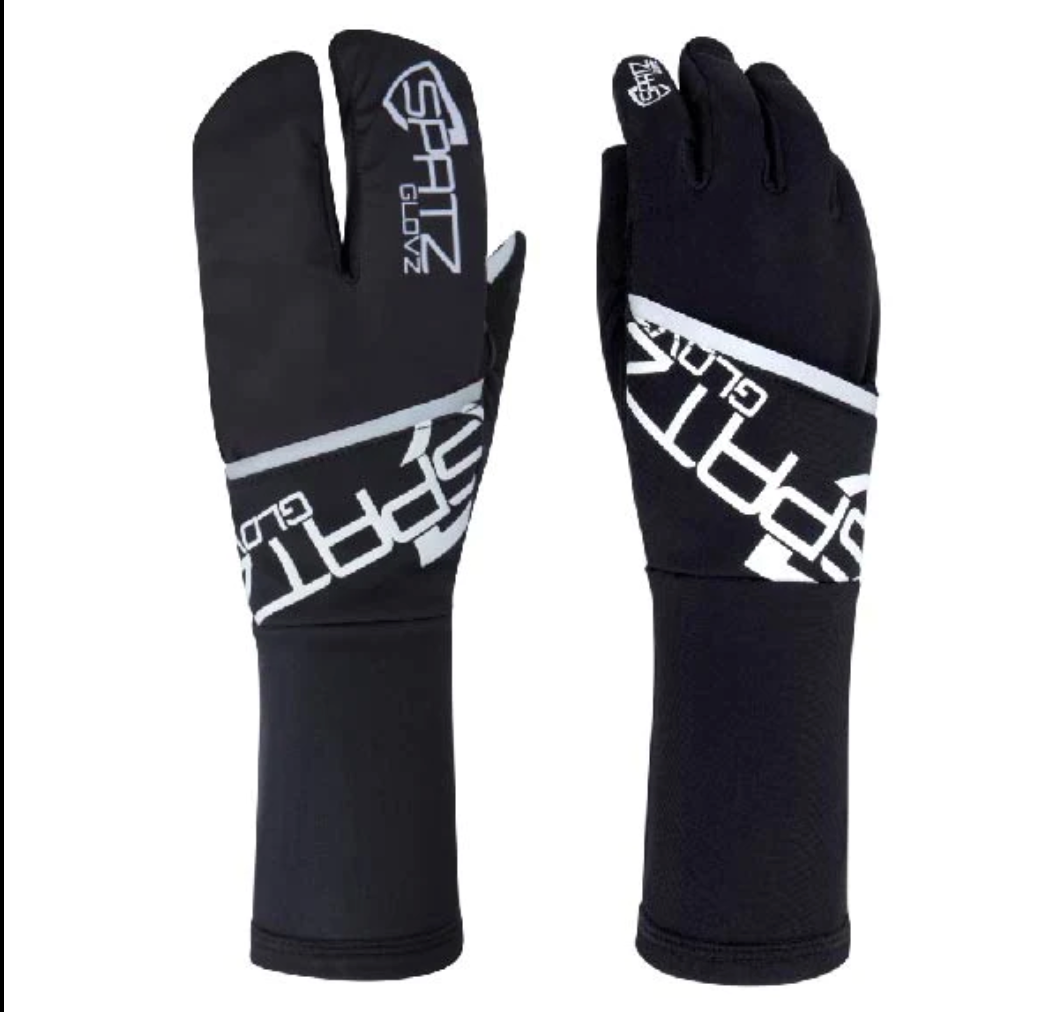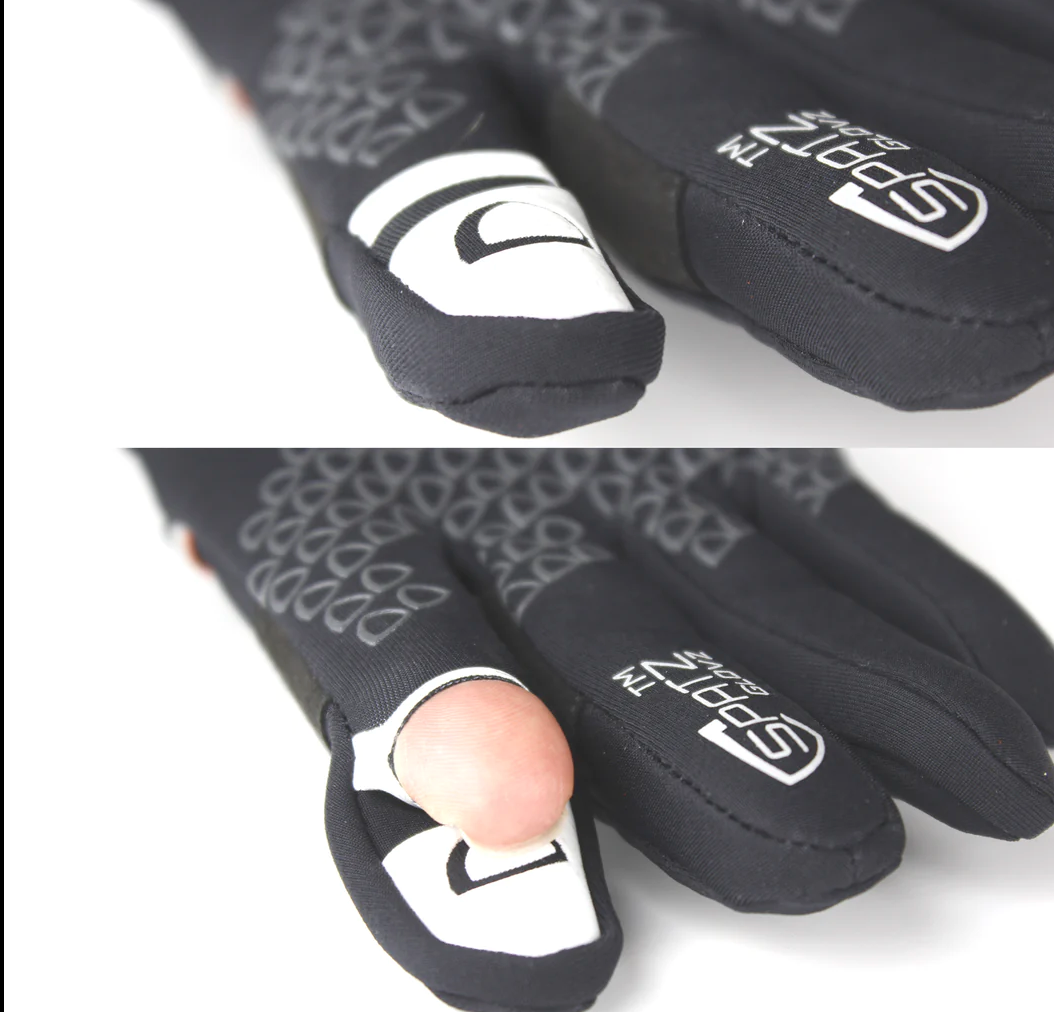 SPATZ "GLOVZ" Race Gloves with fold-out wind blocking shell
---
Spatz "Glovz" are made specifically for (and developed by) the current Olympic Champion.
An insanely comfortable glove which was designed to fill a void: A glove you can wear from the start of your race/ride to the finish.
The new Spatzwear "Glovz" feature an extra, wind blocking "fold-out" shell which neatly folds away into a hidden pocket on the back of your hand. Enjoy the dexterity and feel of a 5 finger glove then pull out the hidden weapon when you need that extra barrier from the elementz. Ready to sprint? Need to access your tools? Sure; release the barrier shell and fold it away for later. Another dimension of warmth - at your fingertips...
The "Glovz" have a soft comfortable feel, using premium 4-way stretch material with a soft fleecy lining. The cuff is cut extra long to help to insulate those valuable blood vessels in your wrists and ensure the blood reaches your fingers as warm as it should. As with our overshoes, if you want to stop your radiators freezing; insulate your pipes. The "Glovz" integrate perfectly with our Basez2 Base Layers.
The "Glovz" have E-touch fingers which work with your phone/computer with an additional "peepy index finger hole" for when you really need to hit WhatsApp or skip to the next track.
We have added tough, grippy epoxy gel grippers on the palm, thumb and index finger for excellent grip, feel and dexterity. It's important to feel the 'bars, gears and shifters and be at one with your machine.
A reflective strip across the back of the glove adds visibility in the traffic.
We have added toughened areas on the pad covering the ulnar nerve and also on the thumb and first three fingers. These are the areas which traditionally rub and wear through on gloves. We're bike riders. We wear through gloves.
There's nothing like Spatz "Glovz". Designed through a lifetime of cycling in all weathers
Patent Pending. Trade Mark. Registered Design No. 6075585.
SIZING: 3 SIZES: SMALL, MEDIUM, LARGE. SEE IMAGES FOR SIZE CHART.
GUIDE:
SMALL: HAND CIRCUMFERENCE UNDER 19CM
MEDIUM: HAND CIRCUMFERENCE 19-24CM
LARGE: HAND CIRCUMFERENCE OVER 24CM
THE GLOVZ ARE SUPER STRETCHY SO MOST SIZES FIT MOST PEOPLE. GO FOR THE SIZE YOU THINK - YOU'LL BE RIGHT. WE WILL REPLACE IF NOT!***