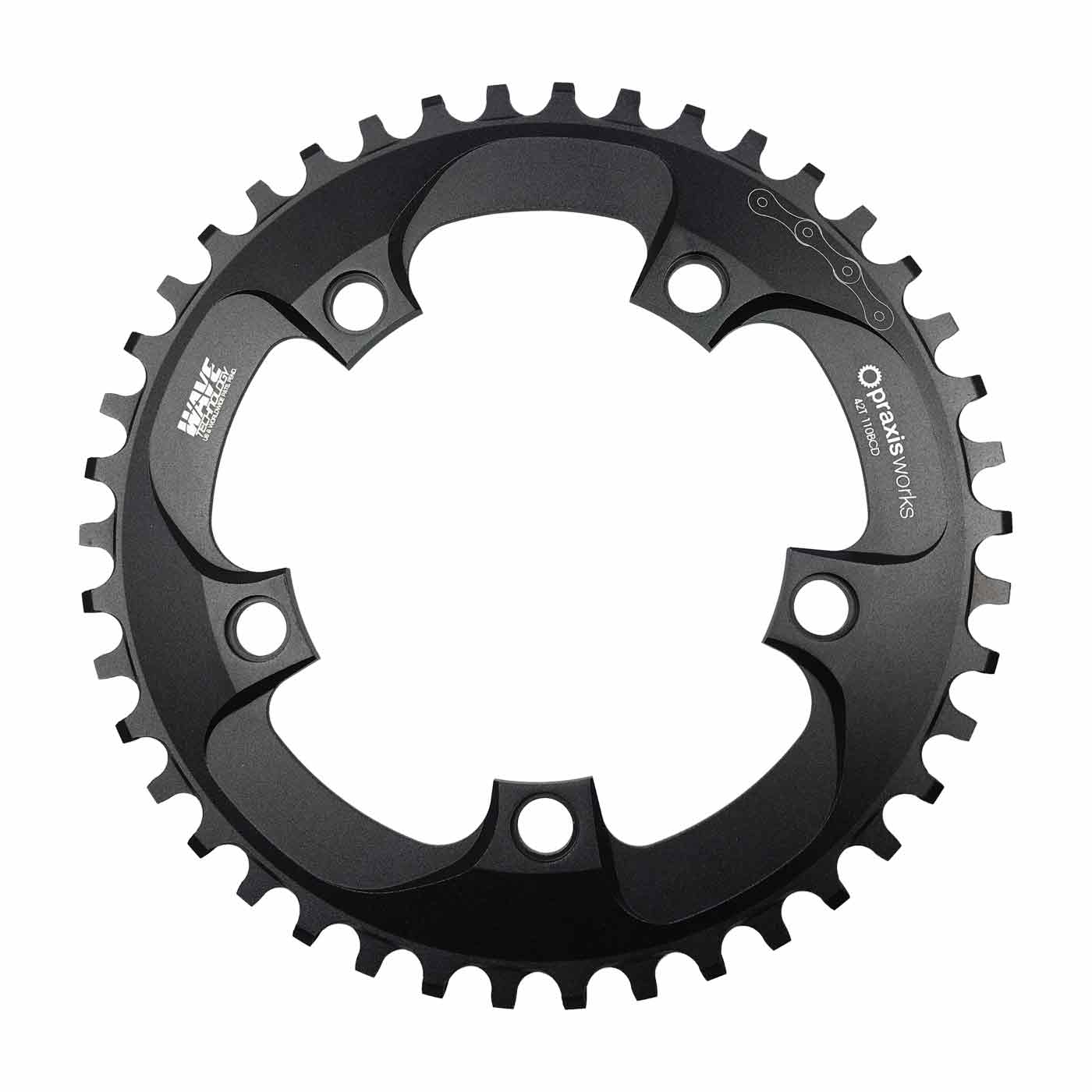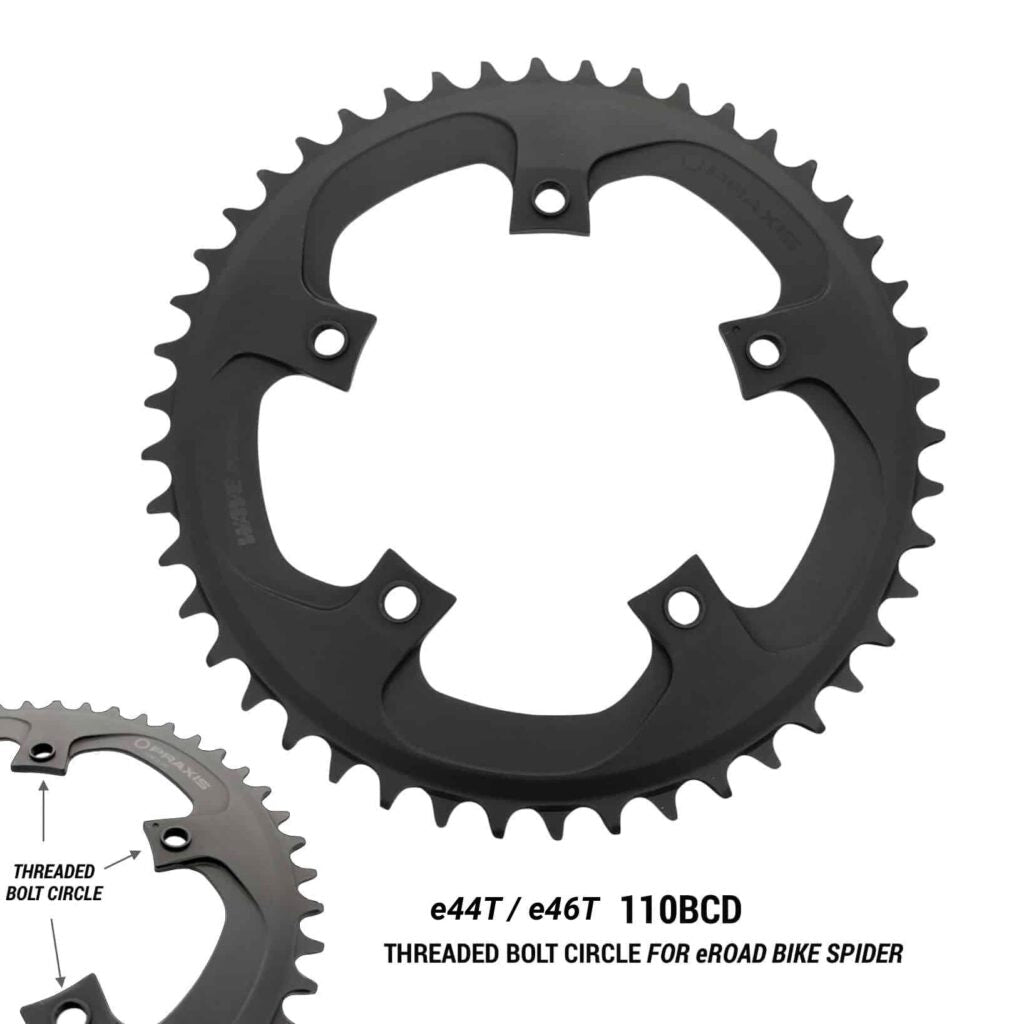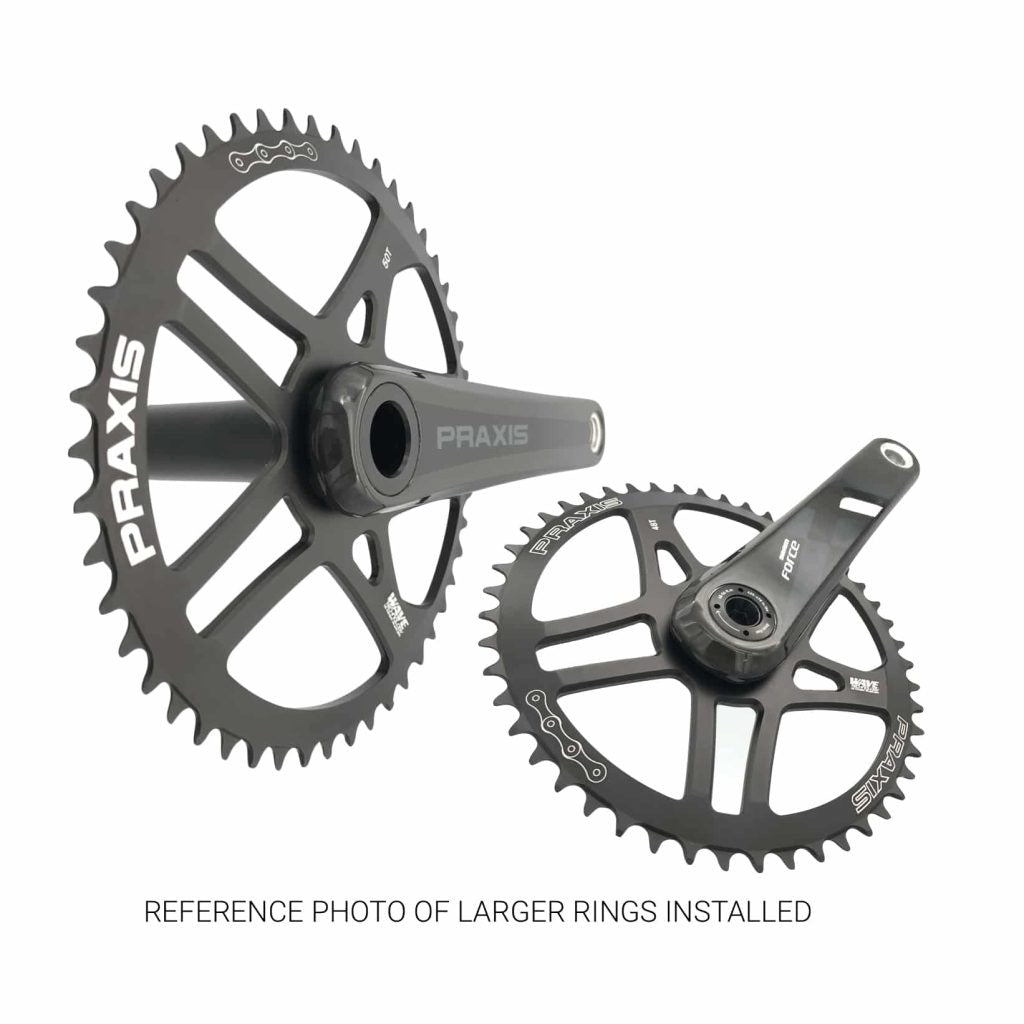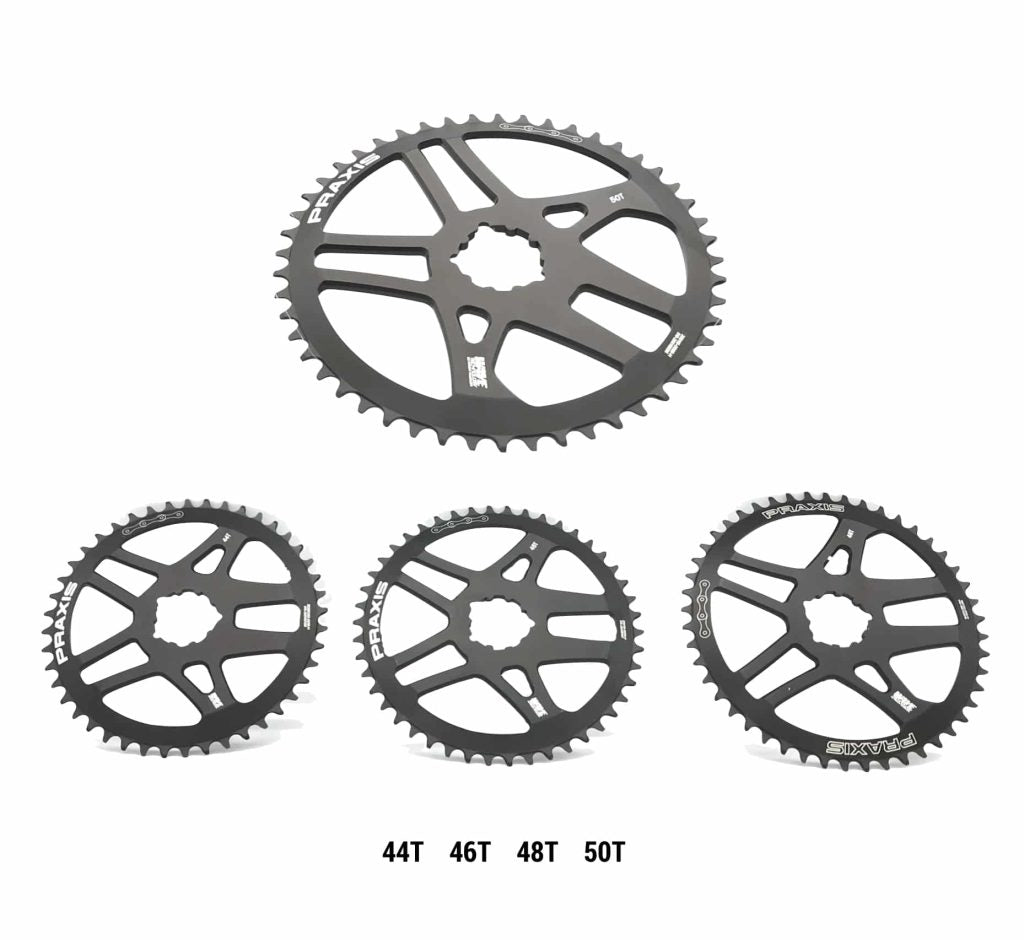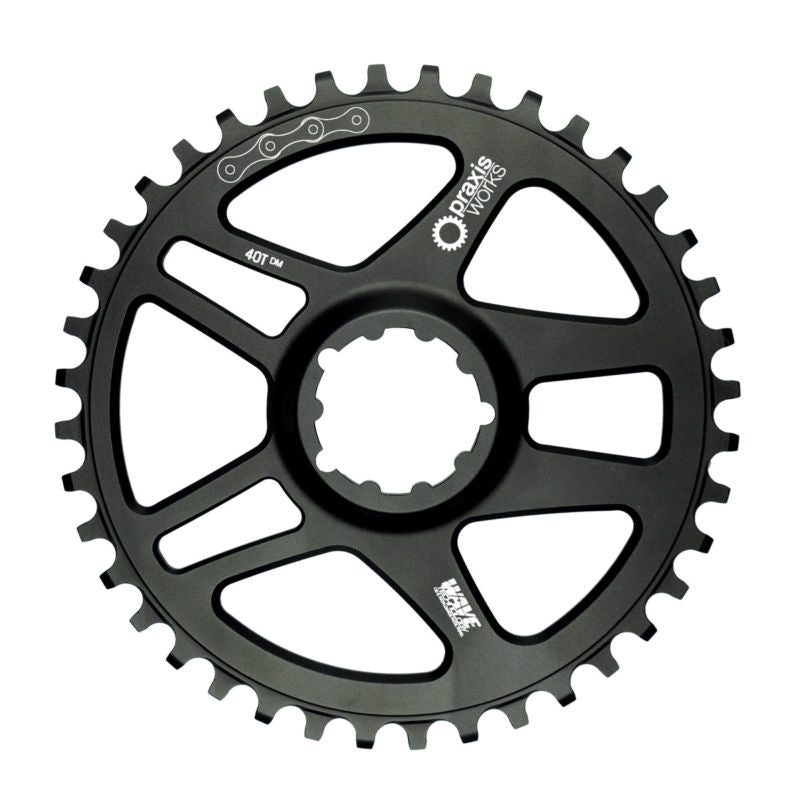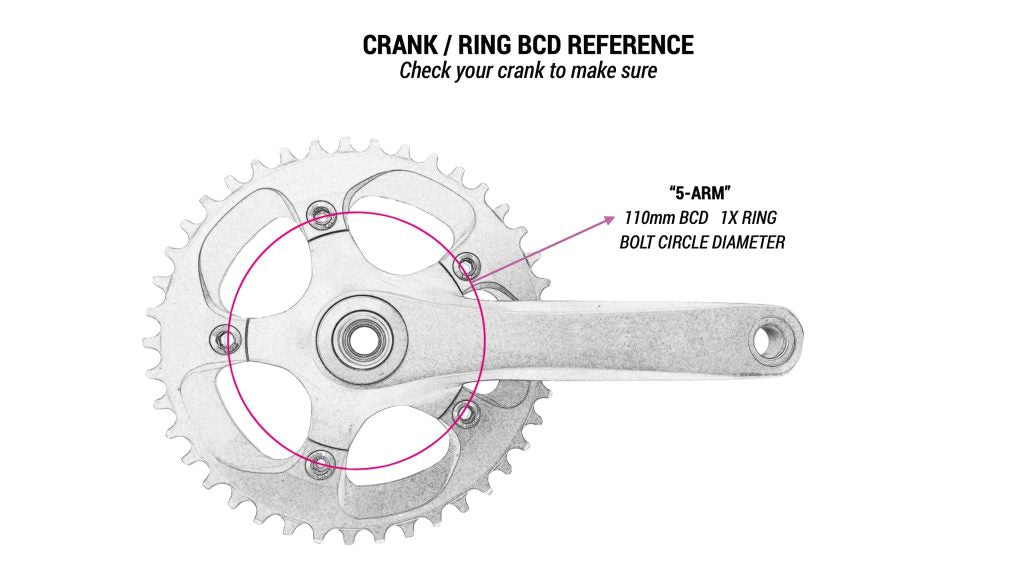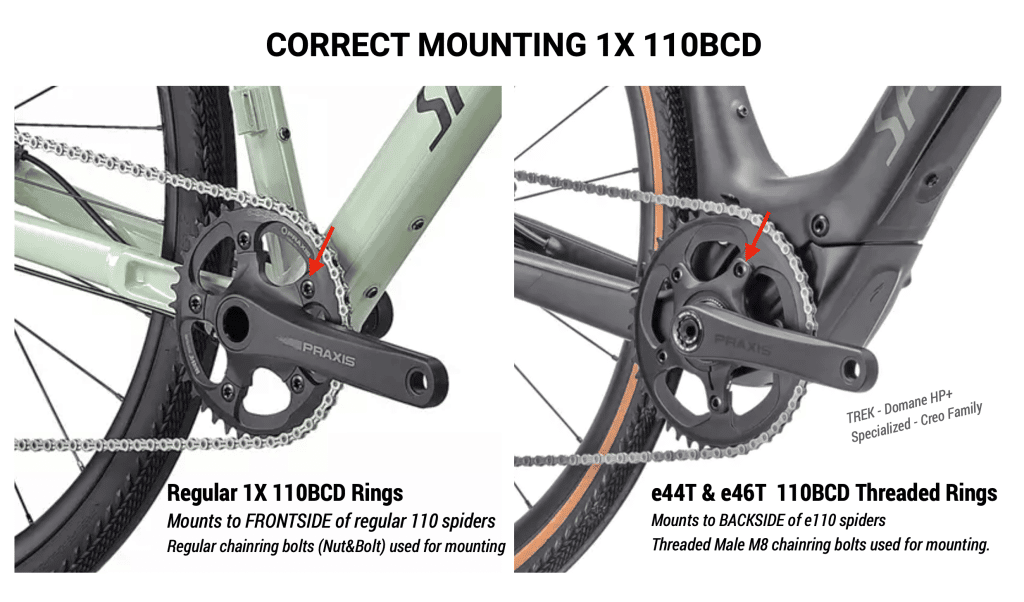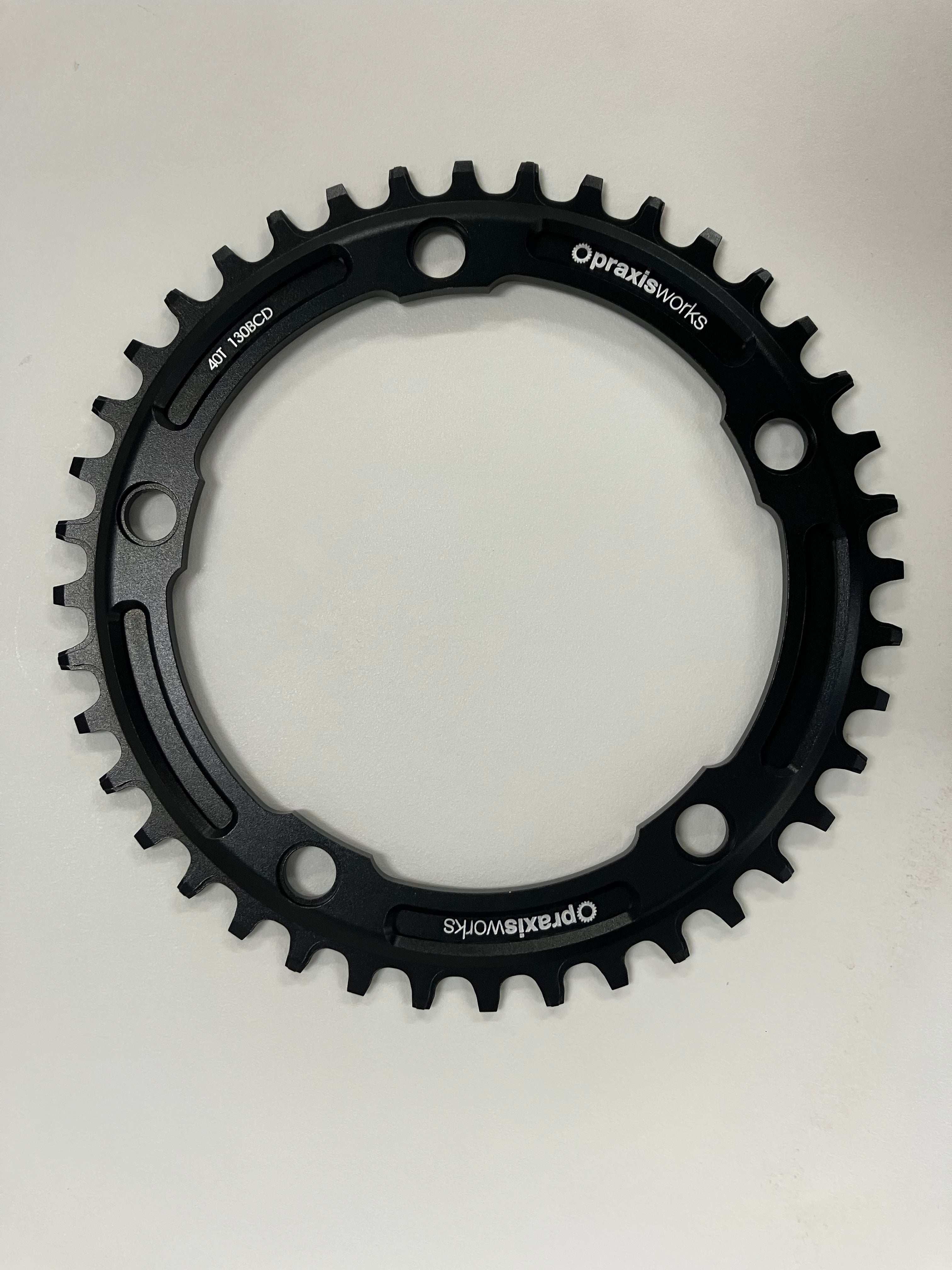 Praxis 1x Chainrings (Road/ E-Bike) WAVE TECH
---
Whether you're cyclocrossing in mud or grinding gravel, Praxis 1X rings are ready for action with the Wave™ tooth profile. Licensed and developed in conjunction with Mountain Racing Products, the Wave™ profile applies alternating lateral force to each chain link to actively retain the chain to the ring – going beyond narrow/wide implementations that rely solely on friction, while allowing room for mud, debris, and grit to escape. The Wave™ design also wears more slowly than competing designs by spreading the load over larger surface areas. Plus our 1X rings are machined from top quality plate 7075 T6 aluminum for superior stiffness and hard anodized to take a beating.
SPECIFICATIONS FOR DIRECT MOUNT

3-Bolt DM  -  36T,  38T, 40T, 42T, 44T, 46T, 48T, 50T  |  7075-T6
DM 1X Chainline 45.5mm  |  Wave™ Tech tooth profile
10/11/12sp Shimano/KMC/SRAM | *Now Sram AXS "Flat Top" chain Compatible!
Machined manufacturing with hard black anodizing for durability
REAR DER- Must use a 'CLUTCH' type rear derailleur.
In rough terrain, or just for security, we still recommend use of an upper guide
Some Ref Weights : 36T = 94g | 42T = 110g | 48T = 166g   All weights approx.
COMPATIBILITY
10/11/12sp Shimano/KMC/SRAM | *Now Sram AXS "Flat Top" chain Compatible!
NOT Compatible with Campy12
Installs on a 3-Bolt Direct Mount ROAD crank
RD- Must use 'CLUTCH' type rear derailleur. Example Shimano Shadow or SRAM Type 2
In very rough terrain, or just for pure security, we still recommend use of an upper guide




SPECIFICATIONS for 110BCD

38T,  40T,  42T, 46T and also e44T, e46T |  110BCD  |  7075-T6 |  Wave™ Tech tooth profile
eRING NOTE : The e44T & e46T are threaded and require M8 bolts for installation (For Trek Domane+ & Specialized Creo eBikes)
10/11/12sp Shimano/KMC/SRAM | *Now Sram AXS "Flat Top" chain compatible
Machined manufacturing with hard black anodizing for durability
REAR DER- Must use a 'CLUTCH' type rear derailleur.
In rough terrain, or just for security, we still recommend use of an upper guide
Reference weight : 42T = 72g
SHIMANO –

Praxis Wave Tech 1X work great with 10/11sp Shimano chains

SRAM –

Praxis Wave Tech 1X work great with 10/11/12sp SRAM chains
10/11/12sp Shimano/KMC/SRAM  |  *Now Sram AXS "Flat Top" chain Compatible!
NOT Compatible with Campy12

POWER METER –

Compatible with 110BCD spider-based power meters such as Power2Max, SRM and Quarq