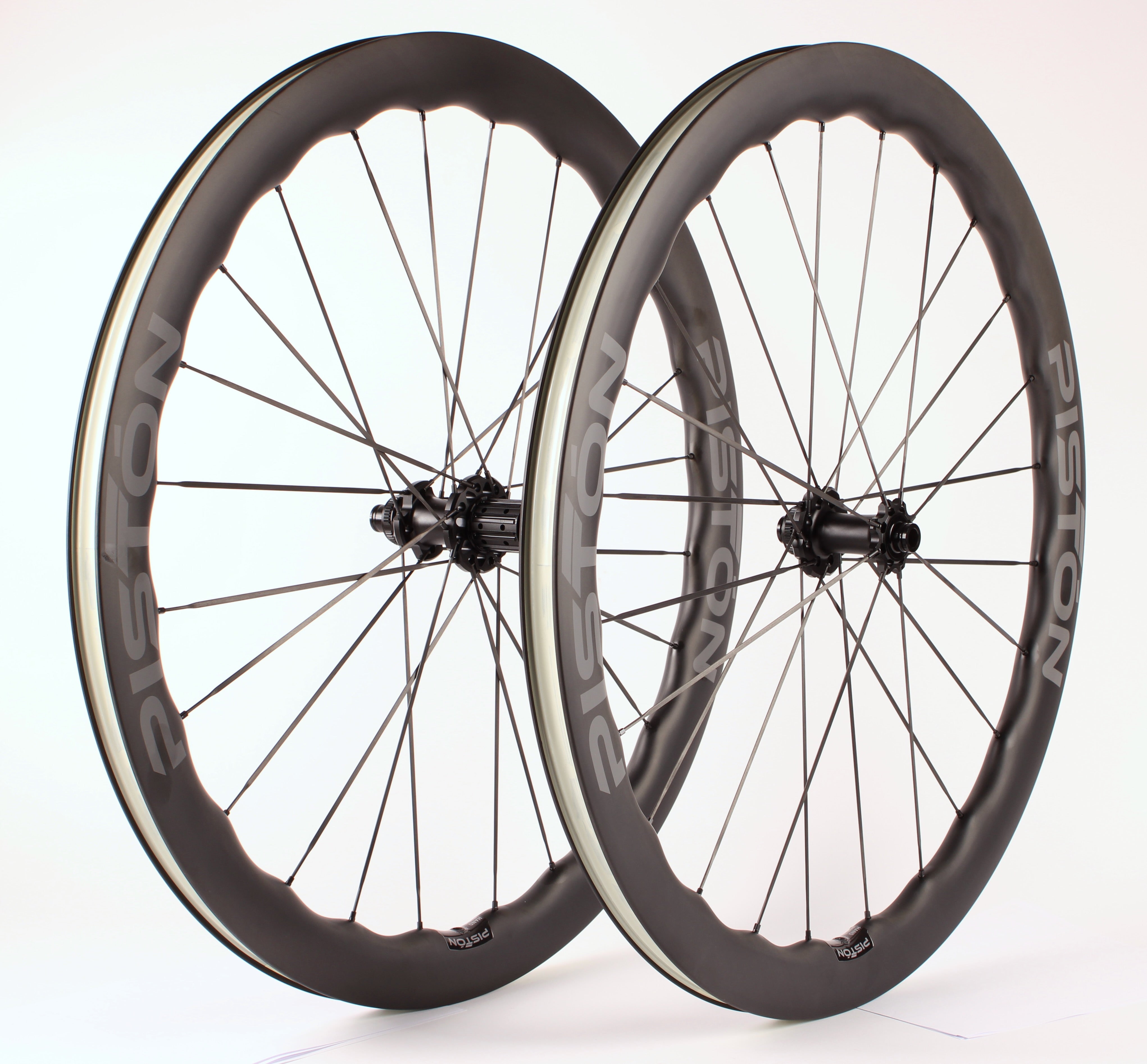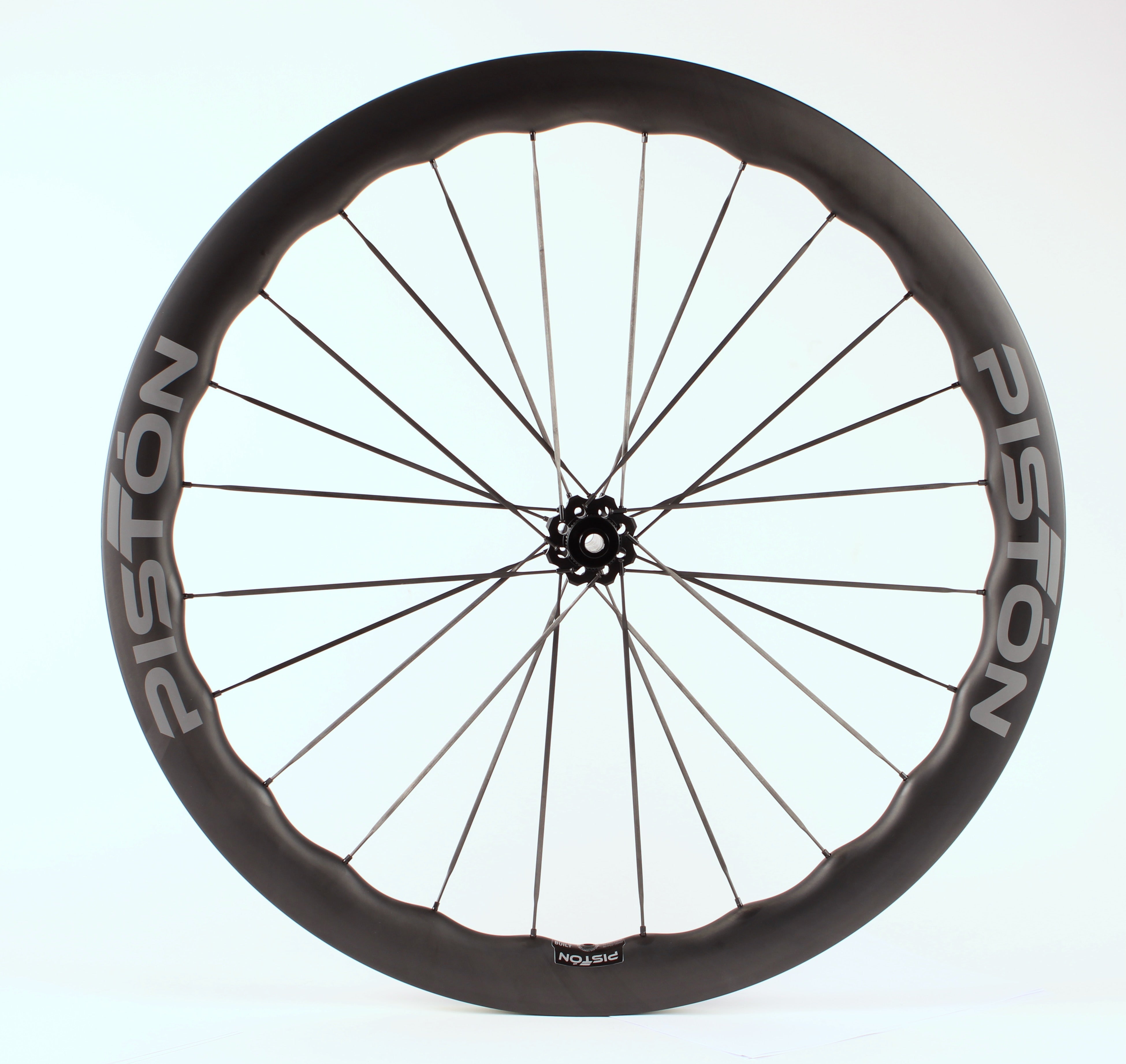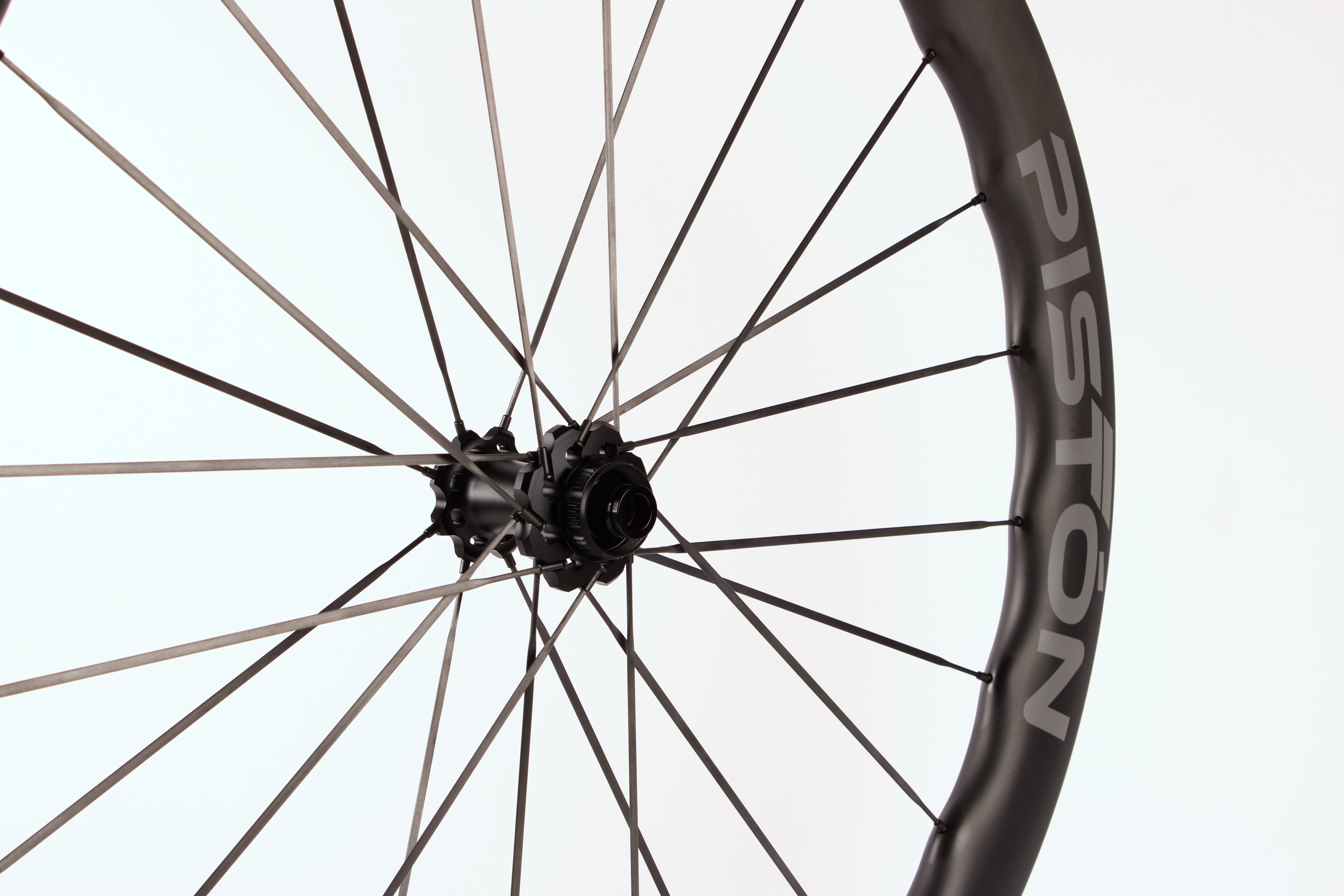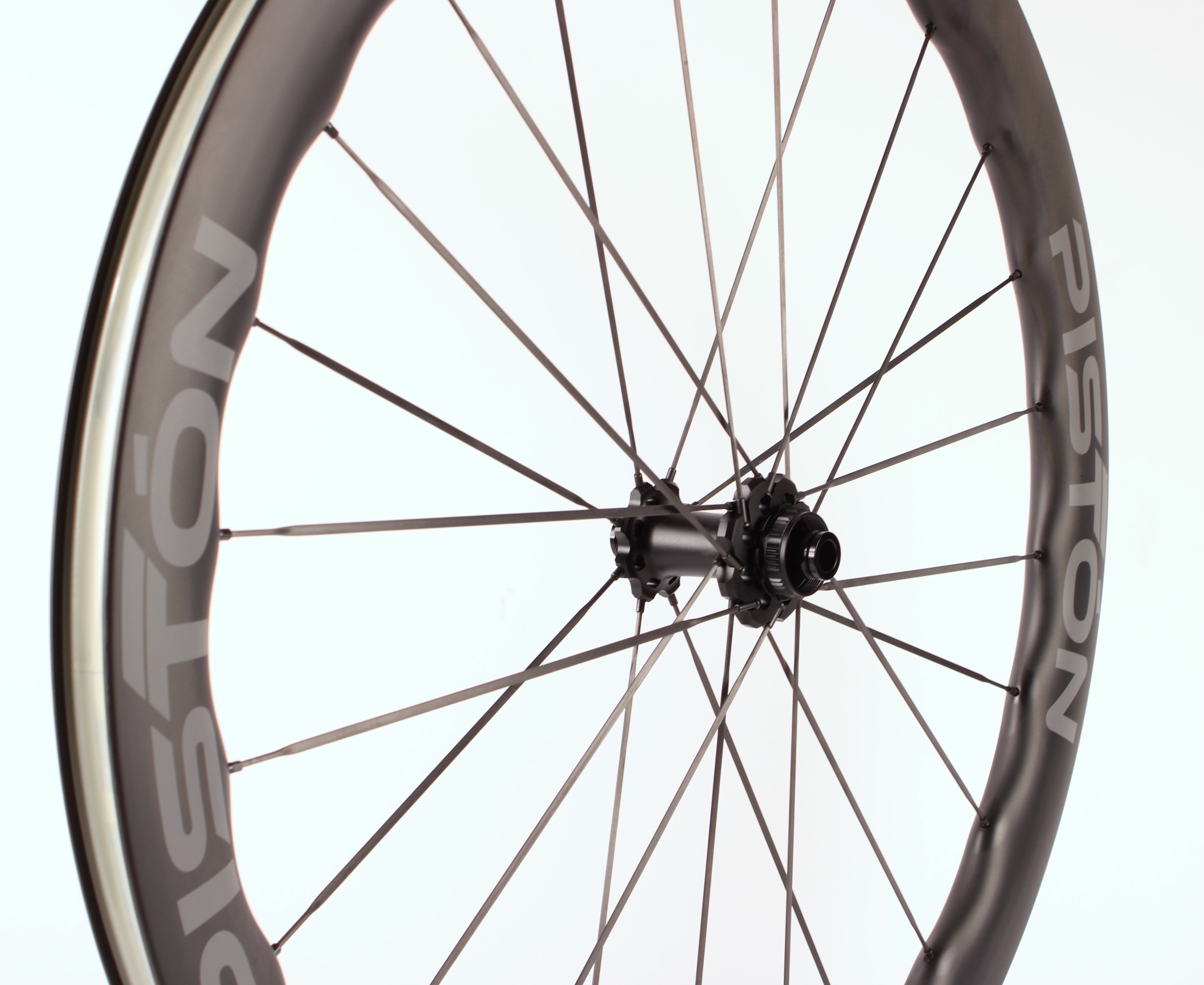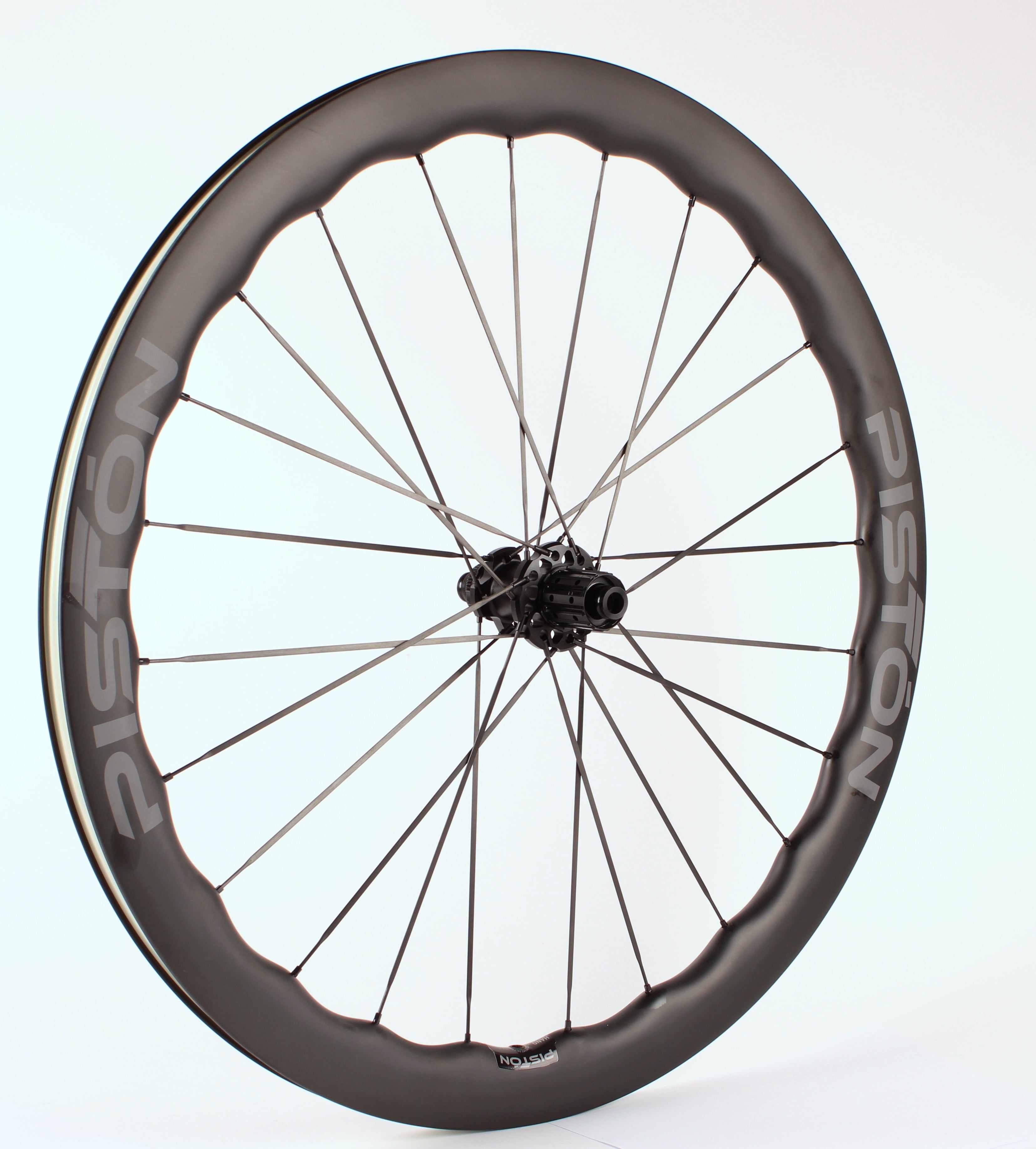 Piston HAMMER 50mm carbon spoke/wave rim wheelset (HG)
---
Introducing Piston 'Hammer' Full Carbon Racing Wheels
Elevate your cycling experience with our Piston Hammer Cycling full carbon wheels – the ultimate fusion of style and performance. Crafted with precision and innovation, our 50mm deep wave style rims and cutting-edge carbon spokes redefine excellence in cycling.
Key Features:
Aerodynamic Excellence: The 50mm deep wave style rims are designed for optimum aerodynamics, reducing air resistance and helping you cut through the wind with ease.

Lightweight Powerhouse: Weighing in at just 1395 grams a set, these wheels are incredibly lightweight, giving you a competitive edge on climbs and sprints.

Sturdy & Responsive: With 24 spokes on both the front and rear, these wheels offer the perfect balance of strength and responsiveness. Whether you're tackling descents or powering up hills, they'll provide the stability you need.

Disc Brake Ready: Our wheels are disc brake compatible, ensuring consistent stopping power and enhanced safety in all conditions.
Why Choose Piston Cycling?
At Piston Cycling, we're driven by a passion for excellence. Our full carbon wheels have been meticulously engineered to deliver exceptional performance, style, and reliability. We take pride in the quality of our products, and we're confident that our wheels will enhance your cycling experience.
Unleash Your Potential
When you ride with Piston Cycling full carbon wheels, you're not just investing in a product – you're investing in your cycling journey. Whether you're a competitive racer or a dedicated enthusiast, our wheels will empower you to push your limits and achieve your best.
Ready to Elevate Your Ride?
Discover the difference that Piston Cycling full carbon wheels can make in your cycling journey. Join the revolution, experience superior performance, and embrace the thrill of the road like never before.
Piston HAMMER Carbon Clincher Road Disc wheelset
50mm deep
28mm external 21mm internal width
PISTON R360 Road Disc Hubs (36t ratchet )
12x100/12x142 Centrelock (XDr or HG)
24H carbon bladed Spokes
Handbuilt 1395g built( +/- 20g)