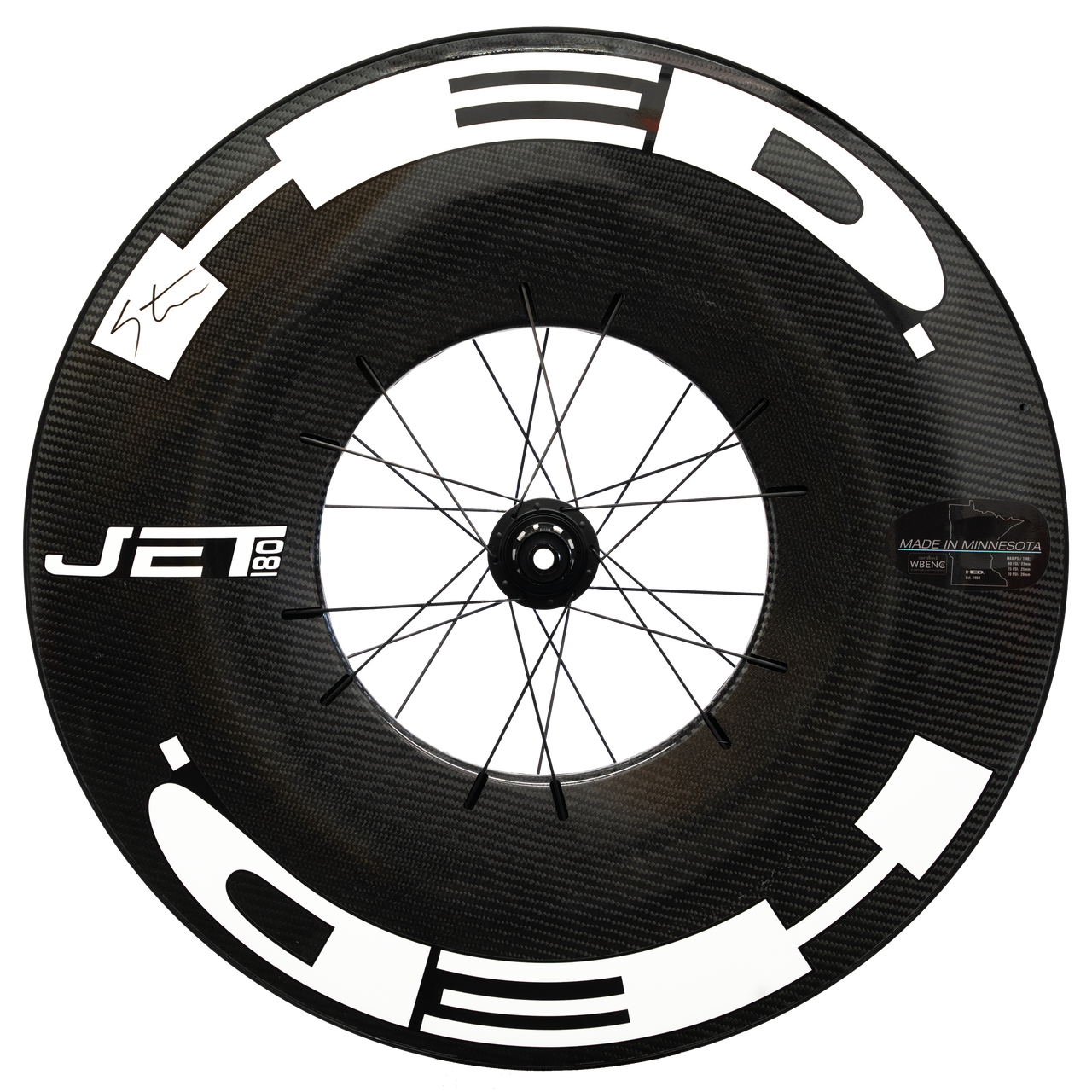 Jet 180 Rear Wheel
---
180mm deep. Nothing else is even close.
Anne Hed first raced Kona in 1983.  For decades she went back, as a competitor and then as a manufacturer.  More recently, she has wanted to come back to the race with a wheel that would dominate the 180km Kona course.  She pushed her team to make that vision real, and together we did.
The 180 is designed to go very fast and handle great in all wind conditions.  It is a simple concept that has proven itself quite complicated to execute.
If you're racing where aero discs are not allowed, where extreme crosswinds are likely, or if you just don't want a full aero disc – we hear you.  The 180 is your wheel.
Our Jet wheels have been in continuous production since 1992.  Among thousands of wins, we're proud to note that they have been ridden to multiple victories in Kona and were the first clincher wheels ridden to a win at the UCI world TT championship.  Over the years Jets have gone from a single 60mm deep model to a lineup offering 5 depths, 21mm internal width, and rim or disc brake.   Over its long history, the Jet has continually led the field with aero innovation and design.  From molding the carbon to truing every wheel, we still hand build every Jet here in our Minnesota factory.
ANTICIPATED LEAD TIME: 2 weeks for Disc Brakes and 1 week for Rim Brake
Limited Availability in Kona at Bike Works
Hed's long tradition of speed and innovation takes a huge step forward with the new Jet 180 rear wheel.
Available in disc brake or as a Black series rim brake model.
21mm internal, 32.5 external.  Tubeless compatible.
1229g disc brake
1258g rim brake