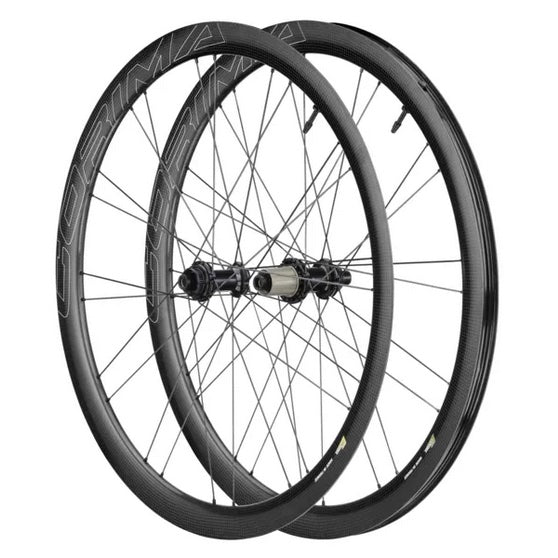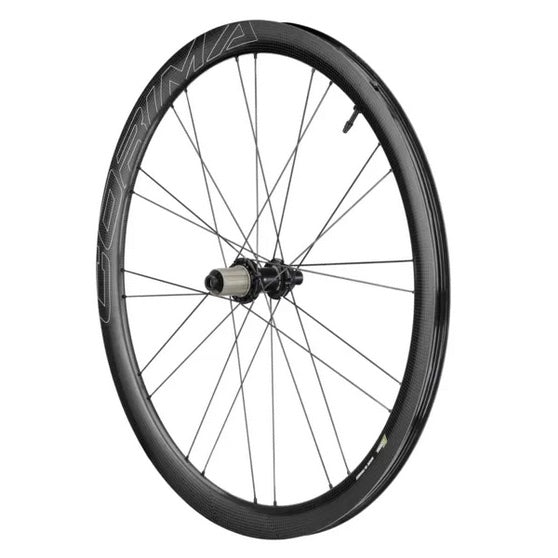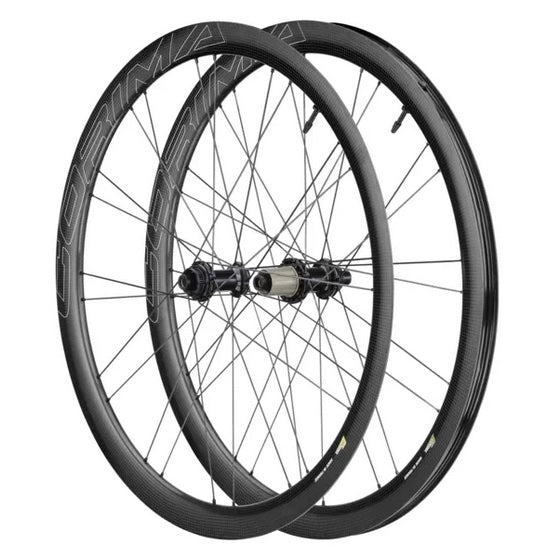 Corima ESSENTIA 40 Rd/Gvl wheelset (HG)
---
Description
The Essentia 40 is the ultimate all-road wheel. Destined to erase the borders between road and gravel, the hookless rim is designed to maximize comfort and control with wider tubeless tires using lower pressures. Fast, lightweight, ultra-versatile and produced in France at our workshop in Loriol-sur-Drôme. The Essentia benefits from the full extent of CORIMA's unmatched experience and capabilities in creating wheels with the ultimate performance, reliability, and design aestetics.
Data
28" tubeless ready pair
Shimano / HG
Profile : 40MM
Rim width : 28mm
Rim width Internal : 23mm
Axle front : Thru axle Ø12 x 142mm
Weight front : 1600 g
Carbon weave : 3K
Front Black Spokes : 24
Tubeless hookless rims
TLR tires compatible. Max pressure 4.7 bar in 28mm
Shipped with
Rim tape
Valve TLR
Valve nut tool
Mandatory conditions of use for the Essentia 40
Tires compatibility
It is the user's responsibility to check that the selected tire model is compatible with hookless rims (refer to tire manufacturer's specifications). Inner tubes may be used however the tire must feature tubeless beads to ensure it remains seated.
Tubeless straight side (TSS) wheels must be used with Hookless compatible tubeless ready tires with width between 28mm and 50 mm (ISO 5775).
The maximum inflation pressure is 4.7 bar (68 psi) for a 28mm tire.
Tips and restrictions
Running tubeless tires requires specific care when it comes to installation and maintenance.
Use only plastic tire levers
When installing the tire, 2 layers of 0.1mm thick rim tape must be installed against the inner rim bed to ensure an airtight seal.
CO2 cartridges, high flow pumps and compressors MUST Not be used to inflate TSS tubless tires on the Essentia wheels.